Operations for the Fall 2020 Term
Columbia Dining is here to serve students for the Fall 2020 Term. For the first three weeks, Columbia Dining will make two deliveries of three meals each day directly to students' residence halls. Dining halls will not be open during this period, but select retail units will operate. Beginning September 20th, select Dining locations will open for grab-and-go service only.
August 19, 2020
Although the campus experience will be a bit different for students who join us for the Fall 2020 term, the Columbia Dining team has a solid plan in place so that students can still enjoy the incredible food that we are known for!
What We Provide
Prior to Check-In, a 'Welcome to Columbia Dining' box will be placed in each student room. The box will contain items such as local hot sauce, ketchup and other condiments as well as utensils, napkins, a special Columbia Dining cookie and more. We'll also pre-deliver bottled orange juice, water and shelf-stable iced coffee to rooms.
All meals will be delivered to students in their residence halls from Wednesday, August 26 through Saturday, September 19.
How to Order
Orders must be placed between 12 a.m. and 12 p.m. on the day before delivery via the official Touchworks Columbia Dining app, available for iOS and Android. Students returning to residence halls on Monday, August 31 should place their first meal order on Sunday, August 30 between 12 a.m. and 12 p.m. 
1. Visit easycode.com/columbiaregistration to get started.
2. Fill out all fields in the registration form.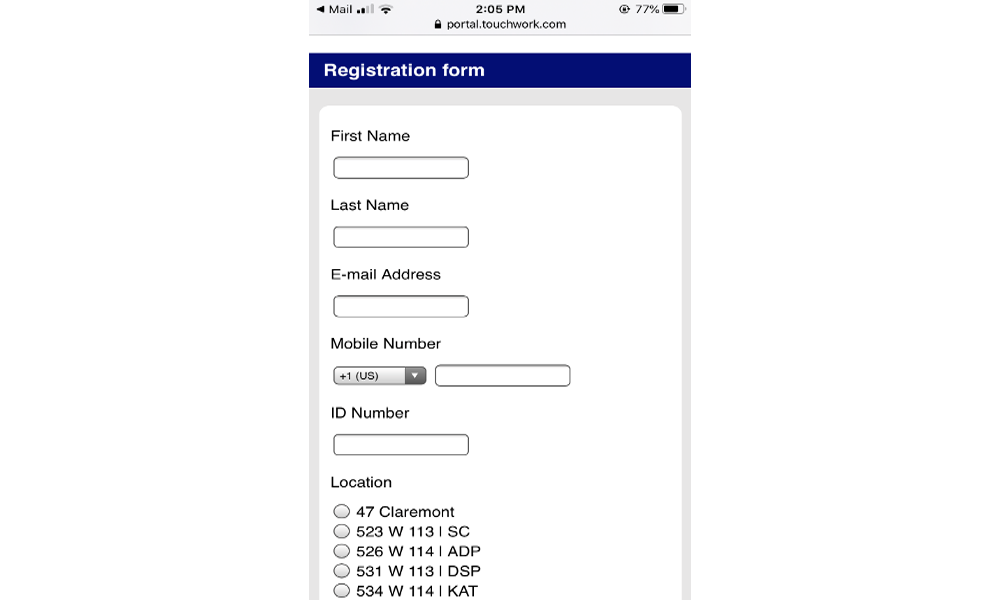 3. You will receive an email from no-reply@touchwork.com titled "Ordering app information," which includes instructions and a link to download the official Columbia Dining App. Be sure to copy your unique Configuration ID code included in the email.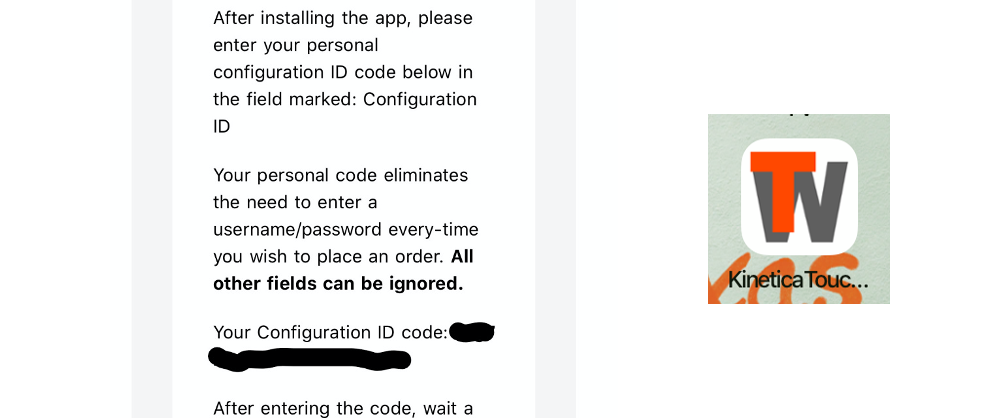 4. Open the Kinetica TouchandTell app. Leave Set Device ID and Location blank, then hit "save". Fill out the Configuration ID field by pasting the ID code you copied from the email — the Configuration ID field MUST be filled out to complete registration — save and hit start.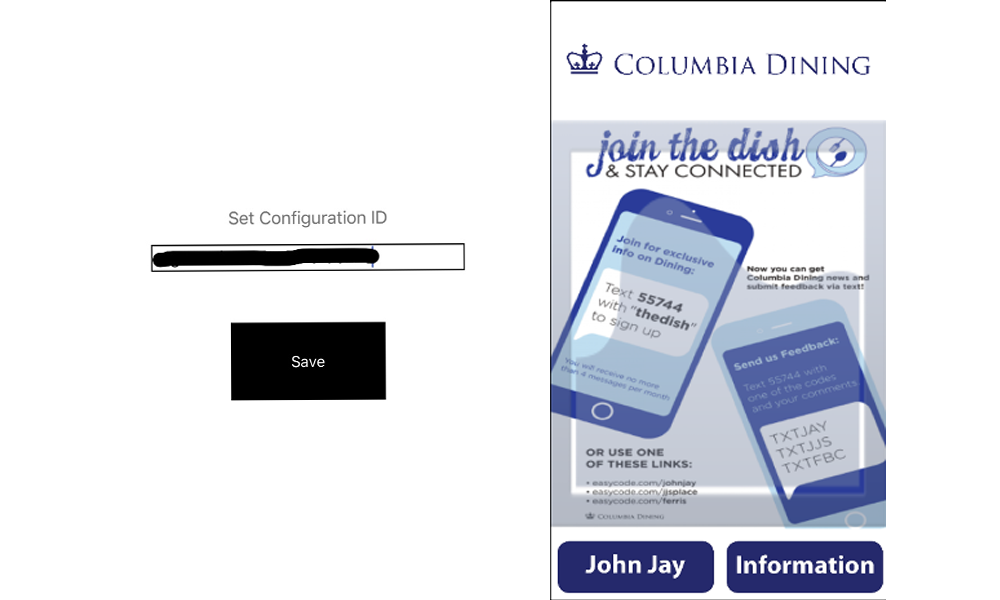 Before placing an order, students must disclose allergy information or dietary restrictions so that we may ensure that they receive a delicious meal that is safe to eat. Students who follow a vegetarian, vegan, Kosher or Halal diet should select "Other" and fill in the appropriate information in the text field provided.
Students may choose to order meals from the listed dining halls.
How it Works
There will be two deliveries and three meals per day:
Lunch will be delivered between 10:30 a.m. and 1:30 p.m.
Dinner will be delivered between 4:00 p.m. and 6:00 p.m. and will include a continental breakfast to be enjoyed the following morning. Students do not need to place a special order for the continental breakfast.
Meals will be delivered to the floor lounge of each building. If a meal is not picked up at the end of the meal period, a staff member will complete an in person wellness check.
Special Experiences
Although we cannot host in-person events at this time, we still love a good themed meal! Students can expect to receive special treats with certain meals, including chips with fresh guacamole on National Guacamole Day and a bag of chocolate kisses on National I Love Food Day!
When Dining Halls Reopen
On Sunday, September 20, select dining halls will open for grab-and-go service. As always, meals will be prepared fresh so that students enjoy the most flavorful food. As with all public spaces on campus, students, faculty and staff will be required to wear face coverings and follow physical distancing guidelines. Decals and signs installed in the serveries will indicate where diners should stand.
We will also introduce touch-free beverage serving systems. Our Coca-Cola Freestyle machines received a software update that allows users to operate the machine using a mobile device. For hot beverages, we've invested in dispensers that are operated by pressing a clean up against the antimicrobial lever, minimizing the risk of cross-contamination.
Review our FAQ for answers to many questions about how Columbia Dining has adjusted operations to keep students safe and well-fed this Fall Term.
We can't wait to welcome you!