Columbia Dining Launches Meal Delivery Service to Start New Academic Year
Students begin to return to campus this week, and Columbia Dining is hard at work preparing for their arrival! While we would love to welcome everyone to the Dining Halls on day one, New York State guidelines require a mandatory two-week quarantine period for travelers from select states. In order to make sure that every student enjoys access to healthy, satisfying meals, we've created a plan to deliver meals to residence halls until Dining Halls reopen on Sunday, September 20.
Of course, practice makes perfect! Our culinary team has been cooking up a storm, refining each recipe and practicing packing the food into special delivery containers. Serving fresh, quality food is important to us, which is why meals will be prepared in our kitchens by our chefs and packed for delivery every day. 
As with our menus in the Dining Halls, each day's lunch and dinner offerings have been carefully planned by our chefs to ensure that there are options to suit every preference and dietary restriction. Students are asked to disclose any allergies or dietary restrictions upon registering on the official Columbia Dining app, before placing an order. Both Lunch and Dinner will feature a variety of options, including scrumptious dishes suitable for our vegan and vegetarian friends, like the burrito bowl pictured below! Think tasty pasta dishes, roasted vegetables and plenty of options for protein.
Image Carousel with 5 slides
A carousel is a rotating set of images. Use the previous and next buttons to change the displayed slide
Slide 1: A vegan burrito bowl with all the fixings, packed for lunch delivery.

Slide 2: Succulent roast chicken with a side of roast green beans, onions, peppers, and mashed sweet potatoes packed for dinner delivery.

Slide 3: A continental breakfast of yogurt, fresh fruit, and bagels packed for delivery.

Slide 4: A Welcome to Columbia Dining Box containing condiments, snacks, plates, utensils, napkins, and other mealtime essentials will be waiting in each students' room upon arrival.

Slide 5: Cases of bottled water, orange juice and Dunkin' Donuts Iced Coffee are waiting in each student's room.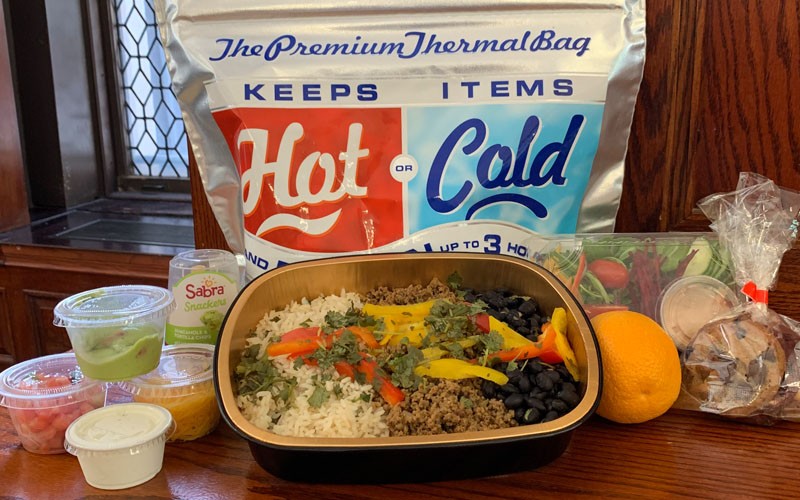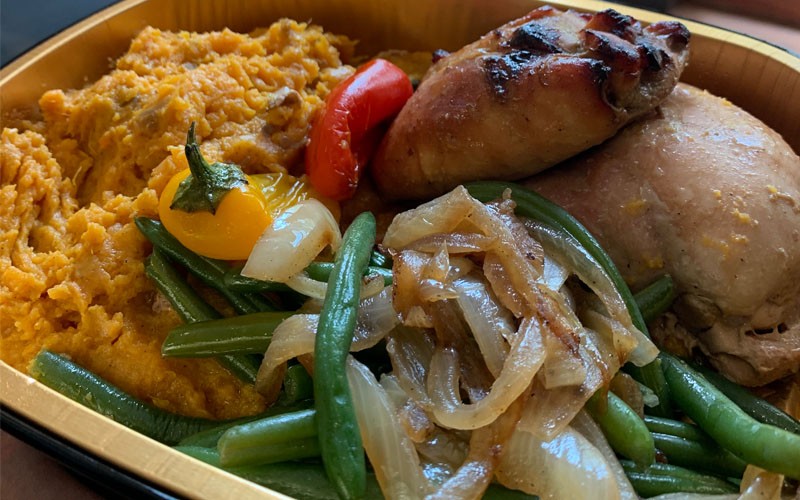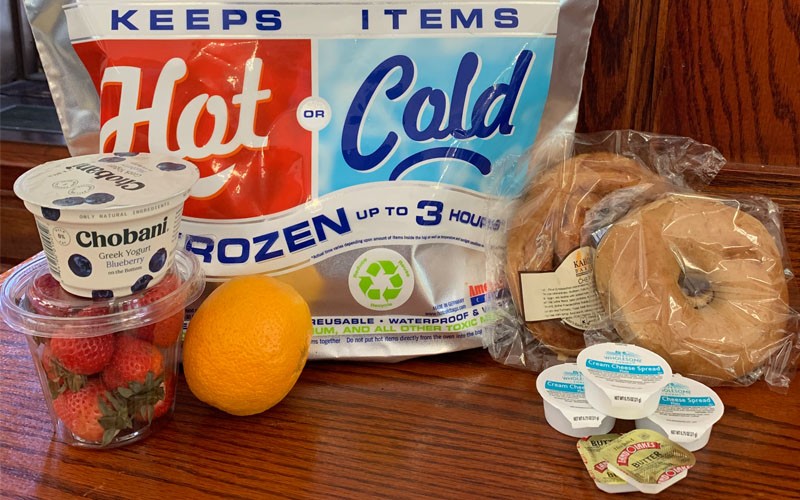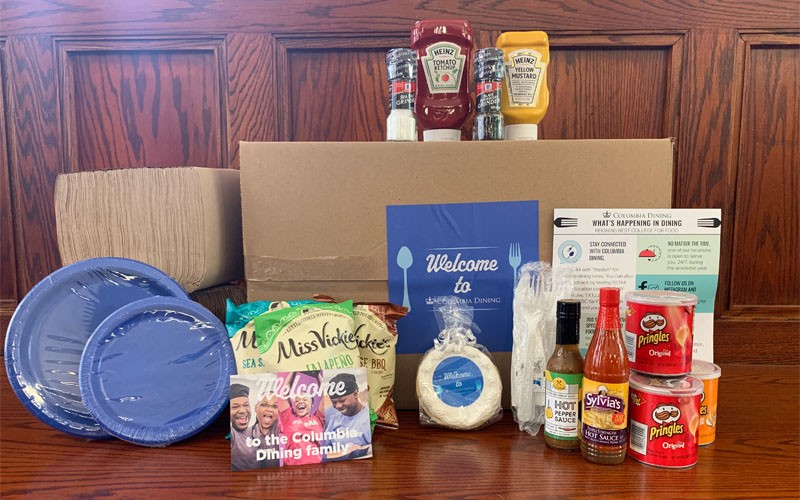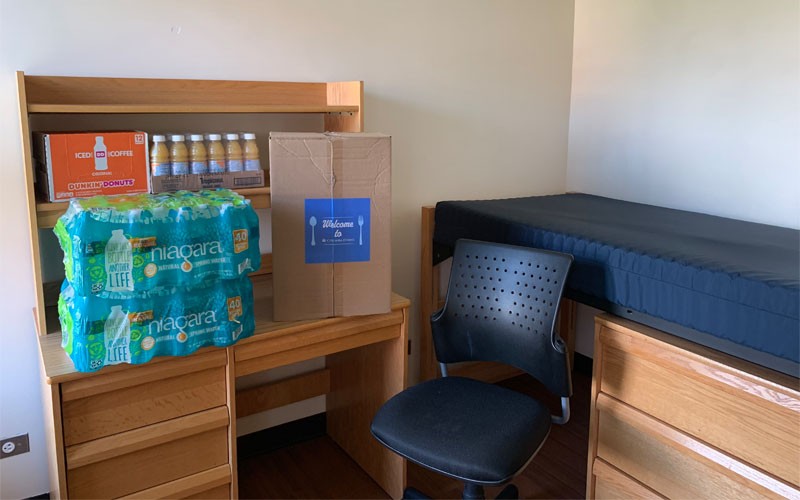 Previous
Next
RAs are among the first students to move-in to residence halls and will begin to receive their meal deliveries when they arrive on Wednesday, August 26. Starting Monday, August 31 – Friday, September 4, Check-In takes place for the rest of the students joining us for the Fall Term. Upon arrival, every student will find a Welcome to Columbia Dining Box containing snacks, utensils and other mealtime essentials in their room. They will also find cases of bottled water, orange juice, and Dunkin' Donuts iced coffee.
Meal deliveries will continue through Saturday, September 19. To make things a bit more exciting, we've planned some special themed meals for students to enjoy.
Saturday, September 5, Crazy for Cookies Day: Students will receive assorted packaged cookies with their lunch delivery.
Monday, September 8, Feels Like Fall: Students will receive a caramel apple with their dinner delivery.
Tuesday, September 9, I Love Food Day: Students will receive a bag of chocolate kissed with their lunch delivery.
Tuesday, September 16, Guacamole Day: Students will receive fresh guacamole and tortilla chips for dipping with their lunch delivery.
Saturday, September 19, Last Day of Meal Delivery: Students will receive an oversized confetti cupcake with their dinner delivery.
If you've signed up for a Columbia Dining Plan, please be sure to download the official Columbia Dining app and complete the registration process before you arrive on campus. Follow our step-by-step guide for help completing the process.
While the Academic Year 2020-21 is off to an unusual start, Columbia Dining remains committed as ever to one thing: good food.